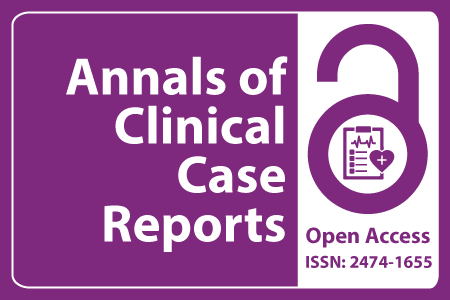 Journal Basic Info
Impact Factor: 1.809**
H-Index: 6
ISSN: 2474-1655
DOI: 10.25107/2474-1655
**Impact Factor calculated based on Google Scholar Citations. Please contact us for any more details.
Major Scope
Cardiology
Chemotherapy
Pharmacology and Therapeutics
Nuclear Medicine
Orthopedic Sugery
Palliative Care
Otolaryngology
Gastroenterology
Abstract
Chunli Y1 and Liqun Z1,2*
1State Key Laboratory of Biotherapy and Cancer Center, West China Hospital, Sichuan University, China
2Department of Medical Oncology, Cancer Center, West China Hospital, Sichuan University, China
PDF Full Text Case Report | Open Access
Abstract:
Background: Angioimmunoblastic T-Cell Lymphoma (AITL) is an aggressive lymphoma with multi faced clinical features. However, it's rare to see secondary Acute Myeloid Leukemia (AML) during the AITL progression. We reported an AITL case proceeding to AML during the initial treatment and summarized the AML cases secondary to AITL from the literature. Case Report: A 77-year-old woman presented with lymphadenopathies for one year; the lymph nodal biopsy and immunohistochemistry staining confirmed the AITL diagnosis without RHOAG17V and IDH2R172 mutations and excluded bone marrow infiltrated. After four courses of CHOP regimen treatment, the patient achieved a partial response. However, the bone marrow was observed the remarked increase of monoblasts, exceeding 70% of total monocytic linage, making the acute monocytic leukemia diagnosis. From the initial diagnosis of AITL to the diagnosis of AML was seven months, and the overall survival time was seven months. Conclusion: We presented a rare AITL case, indicating that secondary AML could occur not only after but also during the treatment of AITL. Besides, as the alkylating agents and topoisomerase II inhibitors are the main drugs to treatment-related AML, exploring the new treatment regimen to avoid the therapy-related AML in AITL is warranted. Furthermore, high-throughput sequencing technology should be considered in this rare situation to better investigate the relationship between AITL and AML in the future.
Keywords:
Cite the Article:
Chunli Y, Liqun Z. Acute Monocytic Leukemia Secondary to Angioimmunoblastic T-Cell Lymphoma: A Case Report and Literature Review. Ann Clin Case Rep. 2022; 7: 2281..
Search Our Journal
Journal Indexed In