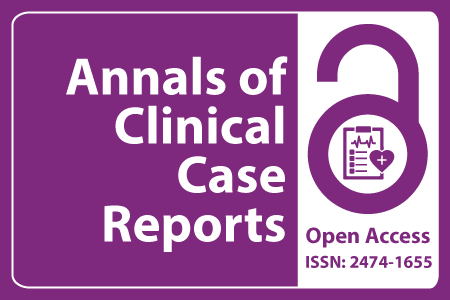 Journal Basic Info
Impact Factor: 1.809**
H-Index: 6
ISSN: 2474-1655
DOI: 10.25107/2474-1655
**Impact Factor calculated based on Google Scholar Citations. Please contact us for any more details.
Major Scope
Sports Medicine
Cardio-Thoracic Surgery
Dentistry and Oral Biology
Family Medicine and Public Health
Nephrology
Physiology
ENT
Signs and Symptoms-Clinical Findings
Editorial Board
Annals of Clinical Case Reports is an Open Access and multifaceted journal with the support of Editorial Board Memebers from various fields.
Daniel Thomas Mytych, Clinical Immunology-Medical Sciences Thousand Oaks, Canada
Hideki Fujita, Nihon University School of Medicine, Japan
Pavadee Poowuttikul, Detroit Medical Center, United States
Christophe de Romeuf, LFB Biotechnologie, United States
Renxi Wang, Institute of Basic Medical Sciences, China
Masashi Emoto, Gunma University, Japan
Chengjun Sun, Kunming University of Science and Technology, China
Trutin Ostović Karmen, Dubrava University Hospital, Croatia (Hrvatska)
Lúcio Roberto Cançado, Universidade Federal da Paraíba, Brazil
Mario Vaccaro, University of Messina, Italy
Paola Lucia Minciullo, The University of Messina, Italy
Chris R Giordano, University of Florida, United States
Christopher F Tirotta, The Heart Program of Nicklaus Children's Hospital, United States
Tomohiro Yamamoto, German Children Heart Center, Germany
Henry Liu, Hahnemann University Hospital, United States
Alaa A Abd-Elsayed, University of Wisconsin, United States
A Sassan Sabouri, Harvard Medical School, United States
Sudhakar Subramani, University of Iowa, United States
Ankur Khandelwal, AII India Institute of Medical Sciences, India
Masahiko Fujihara, Kishiwada Tokushukai Hospital, Japan
Eric B Trestman, Montefiore Medical Center, United States
Shigenori Ito, Sankuro Hospital, Japan
Marco Centola, Polo Universitario, Italy
Ahmet Karabulut, Acıbadem University School of Medicine, Turkey
Takuya Watanabe, Tokyo University of Pharmacy and Life Sciences, Japan
Ugur Canpolat, Hacettepe University, Turkey
Yoshiyuki Takami, Fujita Health University, Japan
Daniel Bogdanov Petrov, Emergency Hospital Pirogov, Bulgaria
Mehmood Zeb, Dorset County Hospital, United Kingdom
Christos Eftychiou, Nicosia General Hospital, Cyprus
Leonardo Di Ascenzo, Local Health Unit n. 10 "Eastern Veneto", Italy
Francisco L Moreno-Martínez, Torrecárdenas Hospital Complex, Spain
Ivan Gambardella, New York Presbyterian Hospital, United States
David Tsu-Chau Huang, University of Rochester Medical Center, United States
Yasuyuki Shimada, Amarume Hospital, Japan
Doina Cârstea, University of Medicine and Farmacy, Romania
Gianluca Di Bella, University of Messina, Italy
Hassane Abdallah, Unversity of Sherbrooke, Canada
Ivan Cvjetko, Unversity of Houston, United States
Joana Margarida Magalhães Ferreira, Centro Hospitalar de Trás-os-Montes e Alto Douro, Portugal
Ignacio Lugones, Children's Hospital of Buenos Aires, Argentina
Jun-Sheng Mu, Capital Medical University, China
Şevket Balta, Gulhane School of Medicine, Turkey
Espeed Khoshbin, Freeman Hospital, United Kingdom
Mohammad Hanif Beg, J.N. Medical College, India
Sukhvinder Singh, Delhi Heart and Lung Institute, India
Osmar Antonio Centurion, Asuncion National University, United States
Masahiko Okada, MD, PhD, Professor Emeritus, Niigata University, Executive Director, Mizuno Memorial Hospital, Japan
Yoshihiro Abiko, BA, DDS, PhD, Health Sciences University of Hokkaido, Japan
Kunwarjeet Singh, Institute of Dental Studies and Technologies, India
Ravi Prakash, Subharti University, India
Anil Patil, Bharati Vidyapeeth Deemed University, India
Adrian Kasaj, Universitätsmedizin Mainz, Germany
Afroz Alam Ansari, King George's Medical University, India
Yoshihiro Abiko, Health Sciences University of Hokkaido, Japan
Yukinori Maruo, Okayama University, Japan
Takeshi Toyoshima, Toyoshima Dental Clinic, Japan
Fuyuki Sato, Wakayama Medical University School of Medicine, Japan
Pejcic Ana, University of Nis, Serbia
Tsuyoshi Shimo, Okayama University Graduate, Japan
Hani Haytham Mawardi, Brigham and Womens Hospital, United States
Andrea Ballini, University of Bari Aldo Moro, Italy
Amit Agrawal, KBH Mahatma Gandhi Vidyamandir's Dental College and Hospital, India
Sonja Pezelj-Ribarić, School of Dental Medicine in Rijeka, Croatia (Hrvatska)
Bora Bagis, Izmir Clerk Celebi University, Turkey
Carlo Maiorana, University of Milan, Italy
Daniel E Myers, DentaQuest- Dental Benefits Solutions, United States
Yu Cai, Peking University School and Hospital of Stomatology, China
Nan Xiao, University of the Pacific, United States
Pham Anh Vu, University of Medicine and Pharmacy, Vietnam
Enrico Spinas, University study of Cagliari, Italy
Enrico Nastro Siniscalchi, University of Messina, Italy
Felice Femiano, University of Naples, Italy
Luciana Macchion Shaddox, University of Florida, United States
H P Raghuveer, Dayananda Sagar College of Dental Sciences, India
Mariana Basílio, UNIME, Brazil
David Harvey, Dermatology Institute For Skin Cancer + Cosmetic Surgery, United States
Arash Taheri, Wake Forest School of Medicine, United States
Katlein França, University of Miami Miller, United States
Daniel Suissa, Yale University, United States
Keiji Sugiura, Daiichi Clinic, Jersey
Ahdi Amer, Wayne State University School of Medicine, United States
Diamant Thaci, University of Luebeck, Germany
Sevil Alan, Akdeniz University School of Medicine, Turkey
Mohammadreza Mortazavi, Al-Hayat International Hospital, Oman
Hironobu Ihn, Kumamoto University, Japan
Aristóteles Rosmaninho, Unidade Local de Saúde do Alto Minho, Portugal
Ersin Aydin, Kasimpasa Military Hospital, Turkey
Jeonghyun Shin, Inha University, Korea, Republic of
Luca Negosanti, S.Orsola-Malpighi University, Italy
Craig Alan Jefferies, University of Auckland, New Zealand
Kamran Mahmood Ahmed Aziz, Aseer Diabetes Center of Aseer Central Hospital, Ministry of Health, Saudi Arabia
Dinesh Singh, Tulane University Health Sciences Center, United States
Kamoi Kyuzi, University of Niigata Prefecture, Japan
Joe Nemeth, Montreal Children's Hospital, McGill University Health Center, Canada
Ozlem Guneysel, Dr Lutfi Kirdar Kartal Education and Research Hospital Emergency Medicine Clinic, Turkey
Deepak Doshi, Roma Hospital, Australia
FATMA SARI DOĞAN, Dr. Lütfi Kırdar Kartal Education and Research Hospital, Turkey
Kenglu Tan, University Malaya, Malaysia
Anca Jivanescu, Victor Babes University of Medicine and Pharmacy, Romania
Bashir A Laway, Sher-i-Kashmir Institute of Medical Sciences, India
Anis Ahmad Chaudhary, Al-Imam Muhammad Ibn Saud Islamic University, Saudi Arabia
Khaled A Alswat, Prince Mansur Diabetes Center, Saudi Arabia
Linhua Zhao, Guang' Anmen Hospital, China
Yoshio Sumida, Kyoto Prefectural University of Medicine, Japan
Jelena Maletkovic, UCLA School of Medicine, United States
Khue Vu Nguyen, University of California, United States
Hiroyuki Morita, Aichi Medical University School of Medicine, Japan
Danilowicz Karina, Hospital de Clínicas "José de San Martín", Argentina
Nieves Gonzalez, IIS-Fundacion Jimenez Diaz, Spain
Khalid S Aljabri, King Fahad Armed Forces Hospital, Saudi Arabia
Zhengcai Lou, Yiwu Hospital of Wenzhou Medical University, China
Detlef Brehmer, Herdecke University, Germany
Fan Yunping, 5th Hospital of Sun Yat University, China
Muhammad Sohail Awan, Aga khan University, Pakistan
Robert L Folmer, Oregon Health & Science University, United States
Afshin Teymoortash, Philipps University, Denmark
Doug Massick, Ohio State University, United States
Babak Saedi, Imam Khomeini Hospital, Iran (Islamic Republic of)
Chin-Lung Kuo, Hsinchu Armed Force Hospital, Taiwan
Ambar Kulshreshtha, Emory University School of Medicine, United States
Kazuo Murakami, Matsuyama Red Cross Hospital, Japan
Hatsumi Yoshii, Tohoku University, Japan
Christos Lionis, University of Crete Voutes, Greece
Viroj Wiwanitkit, Hainan Medical University, China
Atefeh Samadi-Niya, Canadian College of Healthcare Leaders (CCHL), Canada
Masami Nemoto, The Jikei University School of Medicine, Japan
Gaafar Mohamed Abdel-Rasoul, Menoufia University, Egypt
Atsushi Irisawa, Aizu Medical Center, Fukushima Medical University, Japan
Tatsuya Kin, University of Alberta Health Services, Canada
Atsushi Imagawa, Imagawa Medical Clinic, Japan
Hironari Shiwaku, Fukuoka University, Japan
Christian Bojarski, Charité – Campus Benjamin Franklin, Germany
Ming-Hua Zheng, Wenzhou Medical University, China
Vedat Goral, Izmir University School of Medicine, Turkey
Masataka Kikuyama, Shizuoka General Hospital, Japan
Guangwen Cao, Second Military Medical University, China
Alexis Laurent, University Paris XII, France
Carlo La Vecchia, Università degli Studi di Milano, Italy
Toru Ishikawa, Saiseikai Niigata Daini Hospital, Japan
Taiji Akamatsu Nagano, Prefectural Suzaka Hospital, Japan
Chaohui Yu, zhejiang university, China
Tetsuji Nagata Shinshu, University School of Medicine, Japan
Azita Hekmatdoost, Shahid Beheshti University, Iran (Islamic Republic of)
Ritu Walia, University of Central Florida, United States
Lei Huang, Anhui Medical University, China
Laura Iris Cosen-Binker, CBRHC Research Center, Argentina
Bo Jin, The 309th Hospital of the People's Liberation Army, China
George KK Lau, Humanity and Health Medical Group, China
Xiao Du, Sichuan University, China
Chen Hong Bin, Sanming First Hospital, China
Cheng Huang, Zhongshan hospital of Fudan University, China
Jen-Wei Chou, China Medical University Hospital, China
Jen-Tzer Gau, Ohio University, United States
Artur Jurczyszyn, Jagiellonian University Medical College, Poland
Ken He Young, The University of Texas MD Anderson Cancer Center, United States
Aleš Vícha, Charles University of Prague, Italy
Chen Hai-Fei, 100th hospital of People's Liberation of Army, China
Wei Du, University of Arkansas for Medical Sciences, United States
Ahmet Emre Eşkazan, Istanbul University, Turkey
H Joachim Schütte, Schwerpunktpraxis für Hämatologie, Onkologie und ambulante Tumortherapie, Germany
Harsh Patel, University of California, United States
Habib Nourani khojasteh, Shiraz university of Medical Sciences, Iran (Islamic Republic of)
Ilhami Berber, Inonu University School of Medicine, Turkey
Hui Zeng, Central South University, China
John Ayodele Olaniyi, University of Ibadan College of Medicine, Nigeria
Asgar H Rishu, Sunnybrook Hospital, Canada
Dat Tran, University of Toronto, Canada
Alcides Troncoso, University of Buenos Aires, Argentina
Jianqiang Ye, Yangzhou University, China
Joanna Maria Zajkowska, Medical University of Białystok, Poland
Seyed M Hosseini-Moghaddam, Western University, United Kingdom
Godfred A Menezes, University of Hail, Saudi Arabia
Edmond Puca, University Hospital Center Mother Teresa, Albania
HamidReza Naderi, Mashhad University of Medical Sciences, Iran (Islamic Republic of)
Dalvir Gill, SUNY Upstate Medical University Hospital, United States
Ayman Karkar, Kanoo Kidney Center, Saudi Arabia
Rojeet Shrestha, Hokkaido University, Japan
Majed Odeh, A Bnai Zion Medical Center Haifa, Israel
Naro Ohashi, Hamamatsu University School of Medicine, Japan
Kazuaki Nishio, Showa University, Japan
Nagahito Saito, Saga City university, Japan
Nikolaos K Gatselis, University of Thessaly, Greece
Hiromitsu Kitayama, Akkeshi Public Hospital, Japan
Morteza Hassanzadeh, Iran University of Medical Sciences (IUMS), Iran (Islamic Republic of)
Claudio Tana, Guastalla Hospital, Italy
Takumi Kishimoto, Okayama Rosai Hospital, Japan
Chanchal Gera, Christian Medical College, India
Shawn Alexander Jerome Chillag, MD, West Virginia University, United States
Majed Odeh, A Bnai Zion Medical Center Haifa, Israel
Girish Singhania, CHI St Vincent Infirmary, United States
Subhankar Samal, Ascension Columbia St. Mary's Hospital, United States
Chetan Chandulal Shah, Nemours/Wolfson Children's Hospital, United States
Junji Takaya, Kawachi General Hospital, Japan
Jonathan K Muraskas, Loyola University Stritch School of Medicine, United States
Duncan Bruce Johnstone, Temple University School of Medicine, United States
Adel Berbari, American University of Beirut, Lebanon
George S Metry, Primary Healthcare in Sundsvall, Sweden
Malvinder S Parmar, Northern Ontario School of Medicine, Canada
Francisco Rivera Hernández, Sección de Nefrología. Hospital General de Ciudad Real, Spain
Lee Kian Guan, Singapore General Hospital, Singapore
Joan Torras, Hospital Universitari de Bellvitge, Spain
Arabinda Das, Medical University of South Caroloina, United States
Amber Noelle Mitchell, Heath-Quest Medical Practice – Kingston, United States
Abraham N Lieberman, Barrow Neurological Institute, United States
Hassaan Tohid, University of California, United States
Adrian Marchidann, Suny Downstate Health Science Center, United States
Bundhit Tantiwongkosi, University of Texas Health Science Center, United States
Kazumasa Saigoh, Kinki University, Japan
Stanley P Fisher, Saint Luke's Marion Bloch Neuroscience Institute, United States
David Merrill, UCLA Health Sciences, United States
Vijay K Sharma, YLL School of Medicine, Singapore
Dimitris Karacostas, Aristotle University, Greece
Abdul Qayyum Rana, Parkinson's Clinic of Eastern Toronto, Canada
Haiyun Xu, Shantou University Medical College, China
Fatai Kunle Salawu, Federal Medical Centre, Nigeria
Giuseppe Lanza, University of Catania, Italy
Hulya Karatas Kursun, Hacettepe University, Turkey
Rosemarie Folino Carocci, Rush University Medical Center, United States
Ibrahim Mahjneh, University Oulu, Finland
Giancarlo Comi, Scientific Institute S. Raffaele, Italy
Angela Wabulya, University of North Caroloina, United States
María Eugenia García García Clinico, Clinico San Carlos Hospital, Spain
Jie Luo, University of Pennsylvania, United States
Konark Malhotra, West Virginia University, United States
Bruce Jonathan, Emory University, United States
JieHua XU, SunYat-Sen University, China
Durval Campos Costa, Champalimaud Foundation, Portugal
Mei Tian, The Second Hospital of Zhejiang University School of Medicine, China
Mitsuru Koizumi, Cancer Institute Hospital, Japan
Reza Vali, University of Toronto, Canada
Keon Wook Kang, Seoul National University Hospital, Korea, Republic of
Kim Juewon, Amorepacific, Inc, Japan
Ken-ichi Issobe, Nagoya Women's University, Japan
Xingbin Yang, Shaanxi Normal University, China
Shwu-Huey Wang, Taipei Medical University, Taiwan
David JA Jenkins, University of Toronto, Canada
Patricia Grace-Farfaglia, University of Conecticut, United States
Amos Akindiji Akinbiyi, University of Saskatchewan, Canada
Abbas Aflatoonian, Shahid Sadoughi University, Iran (Islamic Republic of)
Masafumi Koshiyama, The University of Shiga Prefecture, Japan
Crystal Chin H, Thomson Medical Centre, Singapore
Sathish Kumar, The University of Texas Medical Branch, United States
Aleksandar (Oliver) Stefanovic, Clinical Center of Serbia, Serbia
Mark G. Martens, Jersey Shore University, United States
Jamal Mourad, Banner University Medical Center, United States
Dimitrios T. Vavilis, Aristotle University, Greece
Okafor Innocent Igwebueze, Esut College of Medicine, Nigeria
Mehdi Kehila, Université Tunis El Manar, Tunisia
Menelaos Zafrakas, Alexander Technological Educational Institute (ATEI) of Thessaloniki, Greece
Gilberto Luna Lugo, General Hospital A Hidalgo Health Services, Mexico
Gabriel Igberase, Delta State University, Nigeria
Görker SEL, Bülent Ecevit University, Turkey
Aaro Hansen, University of Toronto, Canada
Mohamed S Zaghloul, Cairo University, Egypt
Hua-chuan Zheng, First Affiliated Hospital of Liaoning Medical University, China
Guo-Qiang Chen, Shanghai Jiao-Tong University School of Medicine, China
Yanfeng Chen, Sun Yat-sen University Cancer Center, China
Guowei Ma, Sun Yat-Sen Univerysity Cancer Center, China
William Cho, Queen Elizabeth Hospital, Hong Kong
Adriana Handra-Luca, Universite Paris Nord Sorbonne Cite, France
Li Hao, Cancer Center of Sun Yat-sen University, China
Kemal Deniz, Erciyes University School of Medicine, Turkey
Alessandro Gasbarrini, The Italian Orthopaedic Society Bone Metastasis Study Group, Italy
Maria Esther Una Cidon, Bournemouth Hospital NHS Foundation Trust, United Kingdom
Samer Ibrahim Al-Sawalhi, Jordan Medical Association, Ireland
Motoshi Takao, Mie University Hospital, Japan
Polat Dursun, Başkent University School of Medicine, Turkey
Sami Aziz Brahmi, Oujda Cancer Centre Hassan II, Morocco
Roya Dolatkhah, Tabriz University of Medical Sciences, Iran (Islamic Republic of)
Yoichi Naito, National Cancer Center Hospital East, Japan
Hwaseung Yoo, Daejeon University, Korea, Republic of
Sirish Dharmapuri, Icahn School of Medicine at Mount Sinai, United States
Fumio Shiraga, Okayama University Medical School, Japan
Avni Murat Avunduk, Pamukkale University, Turkey
Fatih C. Gundogan, Gulhane Military Medical Academy, Turkey
Fang Wang, Tongji Eye Institute, China
Masahiko Sugimoto, Mie University Hospital, Japan
Yog Raj Sharma, Ministry of Health & Family Welfare, Government of India, India
Raneen Shehadeh Mashor, Bnai-Zion Medical Center, Israel
Tetsuya Sugiyama, Nakano Eye Clinic of Kyoto Medical Co-operative, Japan
Yusuf Akar, Akdeniz University School of Medicine, Turkey
Giusti Cristiano, Policlinico Universitario, Italy
Claudia Florida Costea, Spitalul Clinic de Urgență Profesor Doctor Nicolae Oblu, Romania
Majid Moshirfar, Rivera Research LLC, United States
Ivo Filipe Oliveira Pereira da Gama, Hospital Santa Maria, Portugal
Frank Tost, University Eye Hospital Greifswald, Germany
Francisco Jose Munoz Negrete, University of Alcalá, Spain
Frederic Matonti, Maître de Conférence - Praticien Hospitalier, France
Olufemi Adelowo, Lagos State University College of Medicine and Teaching Hospital, Nigeria
Errani Costantino, Istituto Ortopedico Rizzoli, Italy
Antonio G Tristano, Centro Medico Carpetana, Spain
Enrico Pola, Catholic University of Rome School of Medicine, Italy
FeifeiPu, Tongji Medical College, China
FRANK YIN YU, CartilaGen, LLC, United States
Bilal Farouk EL-ZAYAT, University Hospital Giessen and Marburg GmbH, Germany
Yan Hede, Wenzhou Medical University, China
Hongwei Wang, Shenyang Military Region General Hospital, China
Nirmal Raj Gopinathan, PostGraduate Institute of Medical Education and Research, India
Tak Man Wong, The University of Hong Kong, Hong Kong
Jun Hu, Jiyangsu Province Hospital, China
Ariel Masetto, Université de Sherbrooke, Canada
Huifang Zhou, Washington University in St. Louis, United States
Florentin Vreju, University of Medicine and Pharmacy Craiova, Romania
Juan Chen, Xiamen University, China
Massimo Bolognesi, Sports Cardiology Medicine Center, Italy
Peijian Tong, Zhejiang Provincial Hospital of TCM, China
Emmanuel Illical, State University of New York (SUNY) Downstate Medical Center, United States
Raju Karuppal, Government Medical College Kozhikode, India
Ravi Gupta, Government Medical College Hospital, India
F Erkal Bilen, Yeni Yüzyil Üniversitesi, Turkey
Jose Dionisio Castillo Ortiz, Unidad de Investigacion en Enfermedades Cronico Degenerativas, Mexico
Zhen Ping, The General Hospital of PLA, China
Guojun Li, The University of Texas, United States
Fang-Lu Chi, Fudan University, China
Ioannis Liapakis, National and Kapodistrian University of Athens, Greece
Emre Gunbey, Ondokuz Mayis University, Turkey
Carmelo Morales-Angulo, University of Cantabria, Spain
David Szmulewicz, Epworth Hospital Camberwell, Australia
Chul Ho Jang, Chonnam National University Medical School, Korea, Republic of
Domenico Testa, Second University of Naples, Italy
Fatih Oghan, Dumlupinar University, Turkey
Tamer A Ghanem, Henry Ford Medical Group, United States
Giovana R Thomas, University of Miami School of Medicine, United States
Jeremy Hornibrook, Christchurch Hospital, New Zealand
Ramesh Kaipa, Oklahoma State University, United States
Lorenzo Lo Muzio, University of Foggia, Italy
Manuele Casale, Campus Bio-Medico University of Rome, Italy
Vlad Andrei Budu, Carol Davila University of Medicine and Pharmacy, Romania
Annie Philip, University of Rochester School of Medicine and Dentistry, United States
Ouchi Kentaro, Kyushu University Medical and Dental Hospital, Japan
Emilio Landolfi, Nipissing University, Canada
Gianni Colini Baldeschi, Giovanni - Addolorata Hospital, Italy
John Francis Peppin, The Infinity Center-Frankfort LLC, United States
Manuel Angel Gomez Rios, Complejo Hospitalario Universitario A Coruna, Spain
Eric G Bush, Frederick Memorial Hospital, United States
James S Powers, Vanderbilt University School of Medicine, United States
Phlip Sung Han Kim, Center for Interventional Pain Spine, LLC, United States
Anthony Dominic DUrzo, University of Toronto, Canada
Robert J Zalenski, Wayne State University, United States
Alfio Ferlito, Udine University Faculty of Medicine, United States
Katsuhiko Yoshizawa, Kansai Medical University, Japan
Alexandra Sklavounou, University of Athens, Greece
M Firoze Khan, The University of Texas Medical Branch, United States
B Suresh Kumar Shetty, Kasturba Medical, India
Nevene Ramsis Wissa, Canal University Medical School, Egypt
Kaushal Kishor Prasad, Postgraduate Institute of Medical Education and Research, India
Wayne Grant Carter, University of Nottingham, United Kingdom
Michael A. Fishman, Center for Interventional Pain and Spine, United States
David N. Reisman, UFHealth Cancer Center, United States
Vishwa Jeet Amatya, Hiroshima University, Japan
Dilek (Ertoy) Baydar, Hacettepe university School of Medicine, Turkey
Andreadis Dimitrios, Aristotle University of Thessaloniki, Greece
André Luiz Maltos, Federal University of Triângulo Mineiro, Brazil
Gilbert W. Moeckel, Yale University School of Medicine, United States
Evita B. Henderson-Jackson, University of South Florida College of Medicine & Moffitt Cancer Center, United States
Hari Shanker Sharma, Uppsala University, Sweden
Da Zhang, The University of Kansas School of Medicine, United States
Guang-Qian Xiao, University of Rochester Medical Center, United States
Tammey J. Naab, Howard University Hospital, United States
J Olufemi Ogunbiyi, University of Ibadan, Nigeria
Isidro Machado, Instituto Valenciano de Oncología, Spain
Denis Rousseau, Joseph Fourier University, France
Alia Saeed Albawardi, The United Arab Emirates University, United Arab Emirates
Sanjay D Deshmukh, Vithalrao Vikhepatil Medical College, India
Indranil Chakrabarti, North Bengal Medical College, India
Francisco G La Rosa, University of Colorado Denver, United States
Mohamed Hassan, University of Mississippi Medical Center, United States
Dirga Kumar Lamichhane, Inha University, Korea, Republic of
İbrahim Akkoyun, Konya Education and Research Hospital, Turkey
Lilian Liou Cohen, Weill Cornell Medical College, United States
Inguna Lubaua, Riga Stradins University, Latvia
Manuel Antonio Fernandez, Instituto andaluz de neurología pediátrica, Spain
Matjaž Kopač, University Medical Centre Ljubljana, Slovenia
Marco Zaffanello, University of Verona - Piazzale L.A. Scuro, Italy
Mahmoud Smida, Manar University, Tunisia
Dina El Demellawy, University of Ottawa, Canada
Aida Bairam, CHU de Québec Research Center, Canada
M Constantine Samaan, McMaster University, Canada
Joseph Drew Tobias, Nationwide Children's Hospital, United States
Kozo Yasui, Hiroshima City Hospital, Japan
Katrin Scheinemann, McMaster University, Canada
Jonathan K Muraskas, Loyola University Medical Center, United States
Ryuichi Shimono, Kagawa University Hospital, Japan
Marco Matteo Ciccone, Bari University, Italy
Ayrton Alves Aranha Junior, Hospital de Clínicas da Universidade Federal do Paraná, Brazil
Cécile Tissot-Daguette Bischoff, The University Children's Hospital of Geneva, Switzerland
Steven W Kairys, Jersey Shore University, United States
Elena Bozzola, Bambin Gesu Children Hospital Roma, Italy
Chandishwar Nath, CSIR-Central Drug Research Institute, India
CH Cho, School of Biomedical Sciences, China
Michael H J Maes, Medical University Plovdiv, Bulgaria
Ben Chih, Genentech, Inc., United States
Yoichi Matsunaga, Tokushima Bunri University, Japan
Pedro A Jose, University of Maryland School of Medicine, United States
Amit K Tiwari, University of Toledo, United States
Takao Shimazoe, Kyushu University, Japan
Francesca Borrelli, University of Naples Federico II, Italy
Dayami Lopez, North Carolina Central University, United States
Dongyu Wu, China Academy of Chinese Medical Science, China
Hidekatsu Yanai, National Center for Global Health and Medicine, Japan
Arthur Yin Fan, American Traditional Chinese Medicine Association, United States
Akito Ikemoto, Kyoto University, Japan
Bartosz Wnuk, Medical University of Silesia, Poland
Jing Nong Liang, University of Nevada Las Vegas (UNLV), United States
Joshua Vincent, St. Joseph's Health Care London, Canada
Masao Seto, Kurume University School of Medicine, Japan
Ksenia I. Ustinova, Central Michigan University, United States
Mohamed A Sabbahi, Texas Woman's University, United States
Mark Westover Cornwall, Northern Arizona University, United States
Masahiko Okada, Niigata University, Japan
Akira Sugawara, Tohoku University Graduate School of Medicine, Japan
Charles Wang, Loma Linda University, United States
Daniela Haluza, Medical University Vienna, Austria
Takaaki Kobayashi, Kyorin University Hospital, Japan
Hidesuke Kaji, University of Hyogo, Japan
Allen J Orehek, Dementia Prevention Center, United States
Oguchi Andrew O. Nwosu, Emory University School of Medicine, United States
Kevin Yuqi Wang, Baylor College of Medicine, United States
Zhouguang Wang, Albert Einstein College of Medicine, United States
Masashi Nibuya, National Defense Medical College, Japan
Adekunle Garba Ahmed, University of Ottawa, Canada
Norio Yasui-Furukori, Hirosaki University, Japan
Yasuhiro Kaneda, Iwaki Clinic, Japan
Ng Beng Yeong, Singapore General Hospital, Singapore
Atsushi Fukao, Ibaraki City Public Health Medical Center, Japan
Alexandra Tubiana Potiez, Nancy Mental Health Hospital, France
Pavel Prosselkov, Brain Science Institute, Japan
Alberto Miranda-Sivelo, University of Valladolid, Spain
Francisco López-Muñoz, Camilo José Cela University, Spain
Takehito Sawamura, Japan Maritime Self Defense Force Ominato Medical Service Unit, Japan
Evgeny M Krupitsky, St. Petersburg Bekhterev Research Psychoneurological Institute, Russian Federation
Yoshiaki Kikuchi, Tokyo Metropolitan University, Japan
David Arnold Baron, University of Southern California, United States
Giuseppe Tavormina, Psychiatric Studies Centre - European Depression Association, Italy
Akiko Yamasaki, Kyoto University, Japan
Masahito Fushimi, Akita University, Japan
Kazuto Matsunaga, Yamaguchi University, Japan
Takaki Ishikawa, Osaka City University Medical School, Japan
Kevin Camphausen, MD, National Cancer Institute, United States
Anthony J Cmelak, MD, Vanderbilt University Medical Center, United States
Bo Lu, University of Florida, United States
Patrizio Lancellotti, University of Liège, Belgium
Mutlu Saglam, Gulhane Military Medical Academy, Turkey
Ahmed Kamel Abdel Aal, University of Alabama at Birmingham, United States
Jun Murakami, Okayama University, Japan
Harris L Cohen, University of Tennessee, United States
Ezio Lanza, Humanitas Research Hospital, Rozzano, Italy
Changzhou Shao, Fudan University, China
Hiroaki Kume, Kinki University Faculty of Medicine, Japan
Gerald Supinski, University of Kentucky, United States
Julio Gómez-Seco, General Medical Council of Madrid, Spain
Abderr Azzaq Bentaher, National Institute of Health and Medical Research, France
Yuanyuan Zhang, Wake Forest University, United States
Wanxi Yang, Zhejiang University, China
Wu Junqing, Shanxi Medical University, China
Frédérique Courtois, Université du Québec à Montréal, Canada
Samuel Kalibala, Population Council, United States
Razvan Hainarosie, University of Medicine and Pharmacy "Carol Davila" Bucharest, Romania
Sharon A Chung, Toronto Western Hospital, University Health Network, Canada
Nuray Bayar Muluk, Kırıkkale University, Turkey
Milan Radojkovic, University of Nis, Serbia
Amit K Surve, Bariatric Medicine Institute Surgical & Medical Weight Loss Solutions, United States
Ravi Kumar Chittoria, Department of Surgery, Jawaharlal Institute of Postgraduate Medical Education and Research, India, India
Sandeep Kumar Kar, Institute of Postgraduate Medical Education & Research, India
José Luis Beristain-Hernandez, Hospital de Especialidades, Mexico
Ali Yeginsu, Kosuyolu Yuksek Ihtisas Teaching Hospital, Turkey
Arshad Rashid, JK Health Services, India
Archika Gupta, KG Medical University, India
Ashraf Fathi Hefny, UAE University, United Arab Emirates
Stefano Maria Massimiliano Basso, General Hospital Santa Maria degli Angeli, Italy
Nguyen Thanh Liem, Vinmec International Hospital, Vietnam
Veneziano Domenico, Azienda Ospedaliera Bianchi Melacrino Morelli, Italy
Saied Mirshahidi, Loma Linda University, United States
Abdul Rehman, KCP General Hospital Jauharabad, Pakistan
Yuji Kanaoka, Jikei University, Japan
Murat Ugurlucan, Istanbul University, Turkey
Ahmed Elsaftawy, St. Hediwg Hospital, Poland
Damian R Maxwell, Charleston Area Medical Center, United States
Daniel E Wainstein, Hospital Pirovano, Argentina
Marco Cirillo, Poliambulanza Foundation Hospital, Italy
Chaisit Srisomboon, Bangkok Hospital Khon Kaen Heart Centre, Thailand
De Simone Belinda, Tourcoing Hospital, France
Mansher Singh, Brigham and Women's Hospital, United States
Nader Salama, Alexandria Faculty of Medicine, Egypt
Daniel Hrusak, University Hospital Pilsen, Czech Republic
Marcus Vinicius Dantas de Campos Martins, Universidade Unigranrio, Duque de Caxias, Brazil
Caitlin E Hoffman, Weill Cornell Medical college, United States
Attila Tamás Zaránd, Semmelweis University, Hungary
Björn Sill, University Heart Center Hamburg, Denmark
Domenico Rosario Iusco, Azienda Unità Sanitaria Locale Bologna, Italy
Abdullah Al-Haddad, Dar Alshifa Hospital, Kuwait
Domínguez-Adame E, University of Seville, Spain
Cuneyt Kucur, Dumlupinar University, Turkey
Erdal Yekeler, Turkiye Yuksek Ihtisas Traning and Research Hospital, Turkey
Dale A Maharaj, Caribbean Vascular and Vein Clinic, Trinidad and Tobago
Amosy Ephreim M´Koma, Meharry Medical College School of Medicine, United States
Majavery Scott Walker, Brian Allgood Army Community Hospital Seoul, Korea, Republic of
Zvonimir Zore, University Clinical Hospital Center Sestre Milosrdnice, Croatia (Hrvatska)
Abdulzahra Hussain, Doncaster Royal Infirmary, United Kingdom
Ernesto Sierra Montenegro, Hospital Alcivar, Ecuador
Yoshio Misawa, Jichi Medical University, Japan
Faisal Hanif, Shaukat Khanum Memorial Cancer Hospital and Research Centre, Pakistan
Florin Graur, Iuliu Hațieganu University of Medicine and Pharmacy, Romania
Hesham AL-Khateeb, King Hamad University Hospital, Bahrain
Hemant Saraiya, Saraiya Plastic Surgery & Burns Hospital, India
Haydar A Nasser, Sacre-coeur Hospital, Lebanon
Keishiro Aoyagi, Kurume Univeristy School of Medicine, Japan
Go Wakabayashi, Ageo Central General Hospital, Japan
Ahmed Hamed Kassem Abdelaal, Sohag University, Egypt
Amir Reza Vosoughi, Shiraz University of Medical Sciences, Iran (Islamic Republic of)
Ioannis D Kanellos, University of Thessaloniki, Greece
Hirotsugu Kurobe, The University of Tokushima Graduate School, Japan
Yokoyama Junkichi, Juntendo University School of Medicine, Japan
Ilker Sengul, Giresun University, Turkey
Hiroyuki Sakurai, National Cancer Center Hospital, Japan
Wah Yang, First Affiliated Hospital of Jinan University, China
Jean Bellamy, Centre chirurgical du Val d'Or, France
Gennaro Selvaggi, Sahlgrenska University Hospital, Sweden
Andrew J Furey, Memorial University of Newfoundland, Canada
Ken Morita, Hokkaido University Hospital, Japan
George Dafnis, Eskilstuna County Hospital, Sweden
Mario FL Gaudino, Weill Cornell Medical College – New York Presbyterian Hospital, United States
Edward Charles Gowen Tudor, Royal United Hospital, United Kingdom
José Manuel Mier Odriozola, National Institute of Respiratory Diseases, Mexico
Arif Ahmad, John T. Mather Memorial Hospital, United States
Javier Alfonso Pinedo Onofre, Autonomous University of San Luis Potosi, Mexico
Ali Izadpanah, McGill University Health Centre, Canada
Khalid Majed Al Hajri, Prince Sultan Military Medical City, Saudi Arabia
Ray Linrui Guo, London Health Science Centre, Canada
Atif Iqbal, University of Florida, United States
Mayank Roy, Cleveland Clinic Florida, United States
Jose Luis Recuero Diaz, Arnau de Vilanova University Hospital, Spain
Ghazi A, University of Rochester Medical Center, United States
Anup Kumar, University of Central Florida College of Medicine and Global Robotics Institute, India
Daniel B Herz, Dartmouth Medical School, United States
Cindy Casseau, University Hospitals KU Leuven, Belgium
Stanisław J Wroński, J. Biziel Memorial Hospital, Poland
Ahmet Salvarci, Novafertıl IVF Centers Meram, Turkey
E Ozdemir, Kanuni Sultan Süleyman Eğitim ve Araştırma Hastanesi, Turkey
Davide Abed El Rahman, Hospital Rho, Italy
K-H Tsui, Chang Gung memorial hospital-LinKo, Taiwan
Adriana M. Quinones-Garcia, NYU School of Medicine, United States
Alan Hersh DeCherney, National Institutes of Health, United States
Steven D Spandorfer, Weill Cornell Medical College, United States
Christine Marosi, Medical University of Vienna, Austria
Search Our Journal
Journal Indexed In