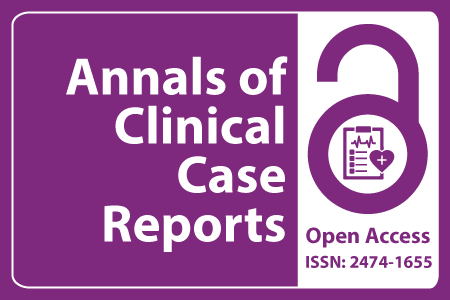 Journal Basic Info
Impact Factor: 1.809**
H-Index: 6
ISSN: 2474-1655
DOI: 10.25107/2474-1655
**Impact Factor calculated based on Google Scholar Citations. Please contact us for any more details.
Major Scope
Tuberculosis
Internal Medicine
Surgery Cases
Allergy & Immunology
Family Medicine and Public Health
Neurology
Epidemiology
Nursing
Abstract
Monalisa Vegda1, Samhita Panda1*, Sarbesh Tiwari2, Anushaprasath U3 and Pawan Kumar Garg2
1Department of Neurology, All India Institute of Medical Sciences, India 2Department of Diagnostic and Interventional Radiology, All India Institute of Medical Sciences, India 3Department of Anesthesia and Critical care, All India Institute of Medical Sciences, India
*Correspondance to: Samhita Panda
PDF Full Text Case Report | Open Access
Abstract:
Background: Tapia syndrome has been defined as extracranial palsy of recurrent laryngeal nerve and hypoglossal nerve leading to unilateral vocal cord and tongue palsy. Case Report: We report a case of atypical Tapia syndrome with recurrent laryngeal nerve, hypoglossal nerve and additional unilateral palatal palsy after orotracheal intubation in a patient undergoing transverse sinus stenting for idiopathic intracranial hypertension.
Conclusion: Occurrence of Tapia syndrome plus after orotracheal intubation is rare and unpredictable. Timely clinical suspicion can help in avoiding unnecessary investigations.
Keywords:
Tapia syndrome; Intubation; Sinus stenting; Idiopathic intracranial hypertension; Cranial nerve palsy
Cite the Article:
Vegda M, Panda S, Tiwari S, Anushaprasath U, Garg PK. Tapia Syndrome Plus Following Intubation for Transverse Sinus Stenting for Idiopathic Intracranial Hypertension - A Case Report. Ann Clin Case Rep. 2022; 7: 2122..
Search Our Journal
Journal Indexed In