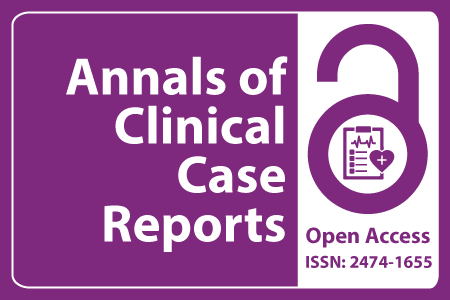 Journal Basic Info
Impact Factor: 1.809**
H-Index: 6
ISSN: 2474-1655
DOI: 10.25107/2474-1655
**Impact Factor calculated based on Google Scholar Citations. Please contact us for any more details.
Major Scope
Radiology Cases
Hepatitis
Pathology
Orthopedic Sugery
Sleep Medicine and Disorders
Internal Medicine
Ophthalmology
Pneumonia
Abstract
Laura Delegido-Gomez1#, Soledad Serrano Corredor2, Paula Revert2 and Ruth Sanchez-Ortiga2*#
1Department of Endocrinology, Hospital Marina Baixa, Spain
2Department of Endocrinology, Hospital General Universitario de Alicante, Spain
#These authors equally contributed to this work
*Correspondance to: Ruth Sanchez-Ortiga
PDF Full Text Case Report | Open Access
Abstract:
Graves's Disease (GD) may develop as an infrequent adverse effect after radioiodine therapy for toxic thyroid adenoma and toxic multi nodular goiter. We present a case of a 64- year-old female treated with radioiodine therapy for toxic adenoma and subclinical hyperthyroidism, whose antithyroid peroxidase and TSH-Receptor Antibodies (TRAbs) were negatives. She didn't smoke. After therapy, the patient became hyperthyroid and presented ophthalmopathy with positive TRAb. She underwent to corticosteroid and anti-thyroid treatment. After eighteen months of treatment, she maintained asymptomatic and TRAb were negatives. The radioiodine therapy for toxic adenoma may induce GD and thyroid ophthalmopathy even in absence of classical risks factors
Keywords:
Thyroid-associated orbitopathy; Graves's disease; Radioiodine therapy; Thyroperoxidase antibody; Thyrotropin receptor antibodies; Thyroid toxic adenoma
Cite the Article:
Delegido-Gomez L, Corredor SS, Revert P, Sanchez-Ortiga R. Graves' Ophthalmopathy Induced by Radioiodine Therapy for Toxic Thyroid Adenoma. Ann Clin Case Rep. 2022; 7: 2097..
Search Our Journal
Journal Indexed In