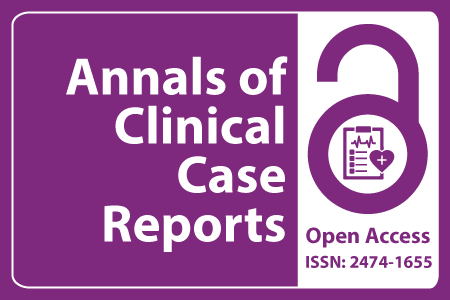 Journal Basic Info
Impact Factor: 1.809**
H-Index: 6
ISSN: 2474-1655
DOI: 10.25107/2474-1655
**Impact Factor calculated based on Google Scholar Citations. Please contact us for any more details.
Major Scope
Palliative Care
Physical Medicine & Rehabilitation
Lung Cancer
Orthopedic Sugery
Endoscopy
Sexual Health
Sports Medicine
Molecular Biology
Abstract
Ianis Cousin1,2*, Camille Printemps1, Elie Cousin3, Arhur Poiry1, Matthias Thepaut1 and Philine De Vries1,2
1Department of Pediatric Surgery, Hospital Center Regional University Morvan De Brest, France 2Laboratoire Intéraction Épithéliums Neurones, Université de Bretagne Occidentale, France 3Department of Pediatrics, Centre Hospitalier Universitaire de Rennes, France
*Correspondance to: Ianis Cousin
PDF Full Text Case Report | Open Access
Abstract:
Subtrochanteric fractures after bilateral per cutaneous central femoral screwing, including preventive contralateral screwing in the treatment of instable slipped capital femoral epiphysis, are uncommon. We report the case of an obese boy aged 9 years and 4 months referred to the hospital for the treatment of high-risk unstable left proximal slipped capital femoral epiphysis. An in situ screwing was performed to obtain an epiphysiodesis on the left side. We carried out a contralateral preventive screwing. Six days after the operation, a fall from a height caused a bilateral subtrochanteric fracture along the epiphysiodesis screw channels. The report of this case makes it possible to balance the interest of contralateral preventive screwing in relation to the risk of bilateral subtrochanteric femoral fracture which is seldom described in the literature and is a serious complication in the case of poor compliance following in situ screwing to treat slipped capital femoral epiphysis. In addition, this observation reports for the first time a tip using a LCP® Large Fragment Locking Plate to treat bilateral proximal femur fracture.
Keywords:
Slipped capital femoral epiphysis; In situ screwing; Contralateral preventive treatment; Complications; Children
Cite the Article:
Cousin I, Printemps C, Cousin E, Poiry A, Thepaut M, De Vries P. Serious Complication of In situ Screwing in Treatment of Slipped Capital Femoral Epiphysis: A Case Report. Ann Clin Case Rep. 2021; 6: 1994..
Search Our Journal
Journal Indexed In