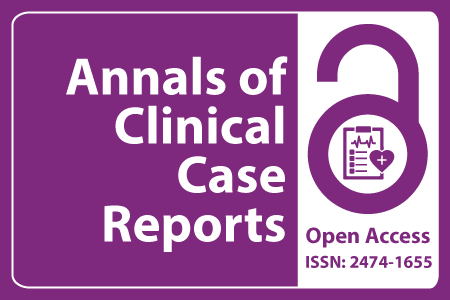 Journal Basic Info
Impact Factor: 1.809**
H-Index: 6
ISSN: 2474-1655
DOI: 10.25107/2474-1655
**Impact Factor calculated based on Google Scholar Citations. Please contact us for any more details.
Major Scope
Breast Neoplasms
Asthma
Dermatology and Cosmetology
Obstetrics and Gynecology
Veterinary Sciences
Nuclear Medicine
Cardiovascular Medicine
Epidemiology
Abstract
Yuan-Hung Wang, Ruei-Lin Wang, Kun-Lin Wu, Chung-Chi Yang and Po-Jen Hsiao
Department of Internal Medicine, Taoyuan Armed Forces General Hospital, Taiwan Department of Internal Medicine, Tri-Service General Hospital, Taiwan
*Correspondance to: Po-Jen Hsiao
PDF Full Text Case Report | Open Access
Abstract:
Infectious aortitis can cause life-threatening complications in clinical practice. Here in, we present an educational case of Infectious aortitis with Methicillin-Resistant Staphylococcus aureus (MRSA) bacteremia in a Woman. The 83-year-old woman presented intermittent fever for 1 week. Her temperature was 38.5°C, and chest X-ray demonstrated tortuosity of aorta with calcification of aortic arch. Her blood cultures subsequently all grew Methicillin-Resistant Staphylococcus aureus (MRSA). Echocardiography revealed no vegetation. The symptoms of chest tightness and shortness of breath were noted. A follow-up chest X-ray showed progressive mediastinal widening. Contrast enhanced Computed Tomography (CT) scan demonstrated thickening of the wall of descending aorta that measured 0.7 cm, suggestive of aortitis with intramural hematoma.
Keywords:
Infectious aortitis; Bacteremia; CT; Staphylococcus aureus
Cite the Article:
Wang Y-H, Wang R-L, Wu K-L, Yang C-C, Hsiao P-J. Life-Threatening Infectious Aortitis with MethicillinResistant Staphylococcus aureus (MRSA) Bacteremia in a Woman with Type 2 Diabetes Mellitus. Ann Clin Case Rep. 2020; 5: 1868.
Search Our Journal
Journal Indexed In